Live Music Venues & Festivals
​Pender Harbour Chamber of Music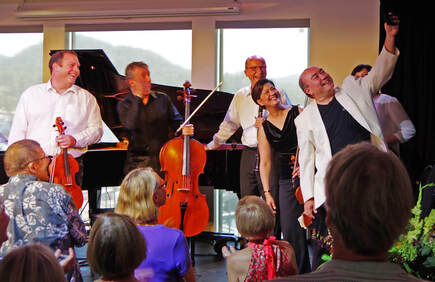 Classical music at its best, don't miss the Chamber Music Festival and the concert series. The monthly Coffee House at the School of Music showcases local performing artists, complete with stage, lights and sound. The proceeds, after expenses, is split among the performers. Coffee and sweets are sold. Check out the Pipe Band and the Choir!
Enjoy live music in our local eateries!
 ​Madeira Park – Pender Harbour
Triple B's Burger Shack serves the best burgers as well as fish and chips. Look for the funky food trailer located among the picnic tables in the garden across from the IGA. On Saturday afternoons, BBB hosts free live music in the garden.
Pender Harbour Golf Course Clubhouse serves delicious food and holds many fun events, including the popular Sunday afternoon jam sessions.
Royal Canadian Legion serves hearty meals and hosts many dances such as Ladies Night and New Year's. On Friday nights there's live music, as well.
Pender Harbour Hotel has a popular waterfront pub and restaurant on a hill with stunning views of the harbour called the Grasshopper. Great pub + Indian food! Check their website for live entertainment nights.
During events like May Day and Pender Harbour Days, there is great outdoor live music in Madeira Park.
Pender Harbour Community Hall holds concerts and dances, as well as many other events including free Thanksgiving and Christmas dinner celebrations courtesy of the Rotary Club of Pender Harbour. Calendar of Events
Village of Egmont

The Egmont Community Hall has a busy calendar that includes concerts and dances, as well as many other social activities including Thanksgiving and Christmas dinner celebrations. Don't miss Egmont Days!
Backeddy Marina and Resort has a popular Pub patio overlooking the Skookumchuck Narrows. Check out their Pub Events and Live Music Calendar.
​Pender Harbour Blues Festival
Produced by the Pender Harbour Blues Society, is a weekend long popular music festival that promotes BC's blues in all its forms. From free outdoor concerts to big dances, there are multiple venues offering live music during the weekend celebrations including:
​Pender Harbour Days
Another fun filled weekend of a celebration of our heritage featuring historical boats, land-based heritage displays, a boat parade, sailing competitions, and more combined with arts, live music, kids activities, and entertainment.